FILTREXX COMPOST VEGETATED COVER
We have you covered, in green.


Filtrexx® Compost Vegetated Cover (CVC) is a temporary vegetation and erosion control practice, generally used for rapid vegetation establishment on disturbed or erodible soils. Unlike Compost Erosion Control Blanket, CVC is a 1/2-inch to 3/4-inch deep layer of GrowingMedia™ (70-100 cubic yards/acre) mixed with a specified seed mix and applied using pneumatic blower trucks.
---
ADVANTAGES
Easy installation
Superior vegetation establishment
Can be used in combination with rolled erosion control blankets
APPLICATIONS
Soil storage areas and stockpiles
Disturbed soils that will undergo future disturbance
Cut and fill slopes under construction
As a nurse crop for permanent vegetation establishment
Stabilization of temporary runoff diversion devices
Curbside buffers on residential lots prior to vertical construction
---
We provide FREE access to our Filtrexx Design Manual. Our database includes product specifications, installation guidelines and recommendations, as well as CADs for over 25 applications. Engineers, designers and installers rely on our Filtrexx Design Manual to evaluate our products and find best suitable solutions. Sign up or log in for free.
WEBINARS AND SEMINARS
View our calendar of webinars and seminars and sign up to learn more about Filtrexx Sustainable Technologies.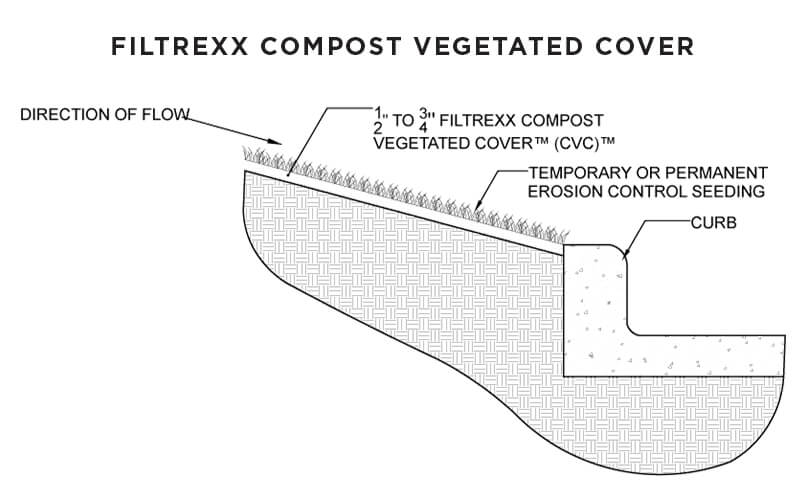 ---
FILTREXX COMPOST VEGETATED COVERS GALLERY
---