July 7, 2022 / Kristin Nix
Biodegradable BMPs Create a Sustainable Future
For over 20 years, compost filter sock has been known as a more sustainable BMP for sediment control in comparison to alternatives like silt fence and straw wattle.
This is largely due to the product materials – about 95% of the product weight of a compost filter sock is comprised of natural compost filter media, with the other 5% is comprised of the outer mesh material. Traditionally this outer mesh material is made of polypropylene or polyethylene, due to their UV resistant and tensile strength properties.
However, as sustainability initiatives become a higher priority for many federal and state regulatory agencies, there has been an increase in demand for natural and 100% biodegradable BMPs in the past decade. Some agencies give preference to biodegradable products, or even plan on eliminating plastics from approved product lists.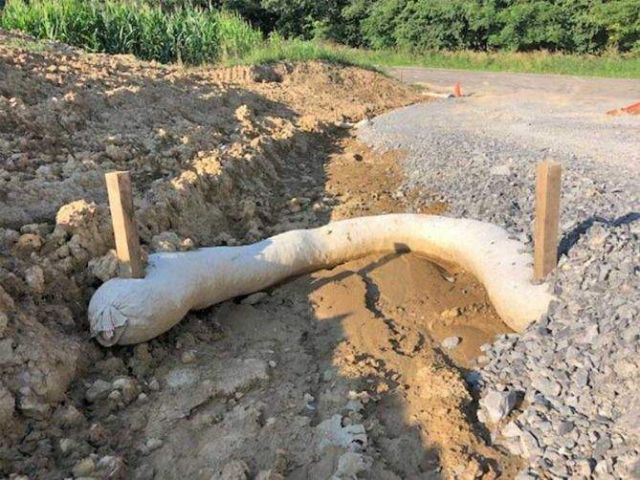 Why natural and biodegradable BMPs?
There are a number of environmental benefits to using biodegradable materials in erosion and sediment control BMPs, including:
Increased use of natural, renewable resources
Less reliance on non-renewable, petroleum-based products
Reduced microplastics and materials in landfills
More compatibility with the permanent natural landscape
Additionally, there are typically lower labor costs to remove and dispose of biodegradable products at the end of a project. For example, if a project plan allows, a 100% biodegradable compost filter sock can be left in place to entirely biodegrade.
Most natural products that have been on the market include burlap, coir, and jute, however these materials are typically imported, meaning sustainability benefits are greatly decreased due to high transportation emissions. Additionally, there may be complications with quality control and supply chain, and these products do not qualify for jobs requiring products Made in USA criteria.
Finding the best biodegradable material for the job
Filtrexx International first introduced a cotton fiber mesh material for compost filter socks in 2012. While the cotton performed as needed, in recent years there has been a demand for materials that more closely match the longevity properties of traditional plastic materials. This led to the research and testing of several natural materials including the previously used cotton fiber, wood fiber, flax fiber, and PLA. Testing was conducted at three field research stations to represent a range of environmental conditions including moisture, UV, and temperature. Research concluded that the wood fiber material had longer longevity and tensile strength properties compared to the cotton fiber, meeting performance requirements for a more durable biodegradable mesh material. The wood fiber also met industry needs for being biodegradable, natural, renewable, and sustainable. In 2020, Filtrexx introduced the wood fiber mesh material to the market under the product name 'SiltSoxx Natural PLUS+' as an additional option to the cotton fiber mesh material, 'SiltSoxx Natural Original'.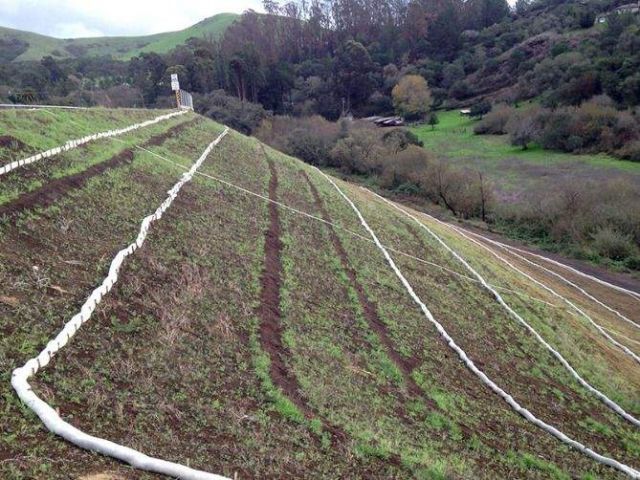 The future of biodegradable BMPs
SiltSoxx Natural PLUS+ can be used in most sediment control applications including perimeter control, inlet protection, slope interruption, and low flow ditches and channels.
Biodegradable BMPs also make sense for use on clean energy construction sites like solar and wind for increased sustainability practices.
Sustainability is no longer a trend but a way of life. Filtrexx continues to seek creative ways to become more sustainable in the materials we use, the products we produce, and the BMP practices we promote. As we learn more about sustainability trends and industry needs, Filtrexx will continue to focus on researching biodegradable materials to protect our natural resources.
References: Filtrexx TechLink #3339. Full research data is available in the Filtrexx Research Library.
As the Marketing Manager for Filtrexx, Kristin specializes in print & digital marketing, graphic design, and website management. She also serves as the moderator for the monthly Filtrexx Webinar Series. Kristin attended the University of Toledo where she obtained a Bachelor of Arts in both communication and environmental studies. After completing multiple internships with Filtrexx, she officially joined the Filtrexx team in 2010. In her free time, she enjoys exploring local parks with her husband and daughter, spoiling their goldendodle, and cheering on the Cleveland Indians.
---
Loading Conversation