Blog Archives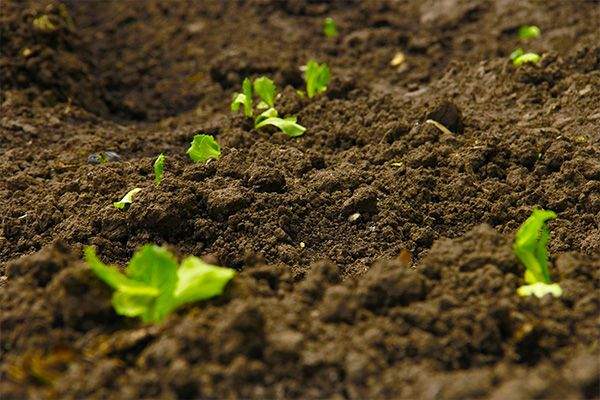 28 Jan 2019, 03:36
This year's Annual Compost and Composting Mega-Conference and Trade Show hosted by the US Composting Council brings the theme Renew and Regenerate to the desert in Phoenix, Arizona.This week long event is designed to show case new developments in organics recycling, compost manufacturing, and compost utilization for the betterment of society and the environment.Whether you are interested in the latest technology and equipment used at large scale composting operations, educational and technical sessions on new markets and applications for compost use, compostable plastics, new environmental research on compost use and water quality, or new policies and infrastructure programs helping to increase organics recycling and use, there is a little something for everyone.
As one of the largest compost users in North America this event (and host organization) is critical to Filtrexx's past success and our future growth.This is where we interact with many of our suppliers, often find new ones, and share with the industry new developments Filtrexx is researching or commercializing in compost used for erosion and sediment control and stormwater management. We have strong roots with this industry, as our success is a shared one, so we look forward to this annual event unlike any other.Just as our technology is used to regenerate disturbed soils and landscapes from coast to coast, we hope to meet you in Phoenix to both share and learn how recycled organics can really push the Renew and Regenerate envelope in 2019.


Dr. Britt Faucette, Ph.D., is an Ecosystem Scientist, CPESC, and LEED AP. He earned his Ph.D. from the Odom School of Ecology at the University of Georgia where he researched soil-water-plant performances of various BMPs used in soil erosion and stormwater management applications; served as a state specialist in storm water management, organics recycling, and pollution prevention programs; and served as an adjunct professor. Britt coordinates research, design, and training services for the stormwater and organic materials management industries and serves on technical committees and boards with ASTM, GRHC, CCREF, and IECA. In 2008 he was awarded the annual USCC Clean Water Award. Britt has authored numerous peer-reviewed and popular press publications and popular press articles, two books, federal and state specifications, and has been awarded nearly $500,000 in research grants.

---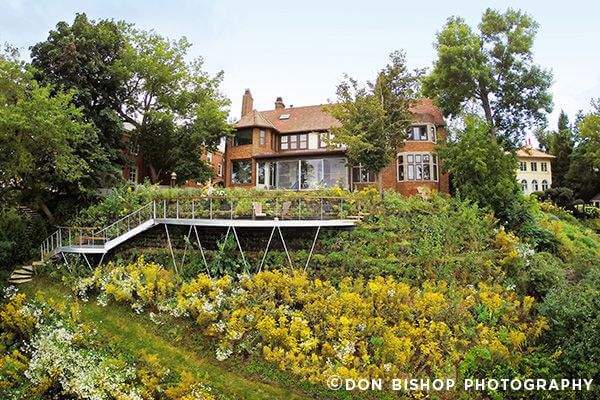 21 Jan 2019, 10:07
Problem: A family living on a beautiful lakefront property outside of Milwaukee had major concerns about the slope stability outside their home as well as having access to the beach at the water's edge. From the view from the back porch windows, the home was right at the edge of the slope. The slope needed stabilization and Marek Landscaping, LLC was hired to design and implement the project.
Solution: A wall of GreenLoxx with GroSoxx were selected for the upper portion of the bluff. The wall would stabilize the area directly adjacent to the home, adding eight feet of yard to the upper terrace. To provide access to the beach, the team determined that a cantilevered deck would provide a dramatic and functional connection between a stone stairway and the trail leading to the beach. The living wall would be the foundation from which the deck and stairs would be anchored. It would provide the access to the beach and beautiful views of the coast. Marek's landscape architect and in-house ecologist developed a plant and seed mix created specifically for the cultural needs and stabilization properties of the plants on the site. Careful on-site direction was provided to ensure efficient and exact implementation of the soil stabilization, planting, trail and overlook construction.
Success: The 90-foot long by 15-foot high GreenLoxx wall consisted of lightweight geo-foam block backfill material, soil anchors and 3" galvanized pipe tied to layers of geogrid wrapped around every two layers of the GroSoxx at the face of the wall. Weight and size of assemblies were critical in design criteria as there was only five feet of space between the neighboring houses. The stairs and landing that connect the overlook deck and bluff trail were custom fabricated using aluminum, wood and stainless steel assemblies that curve and flow with the shape of the GreenLoxx wall.
As the Marketing Manager for Filtrexx, Teele works heavily in the digital and social arenas of marketing, running the Filtrexx Twitter, Facebook and LinkedIn pages. She also serves as writer and editor of press releases, project profiles and most recently, the Filtrexx blog. Teele attended the University of Wisconsin-Whitewater where she obtained a Bachelor of Arts in public relations and a Master of Science in corporate communication. Teele has worked in marketing roles for various companies around the Twin Cities before landing at Filtrexx in July, 2017.

---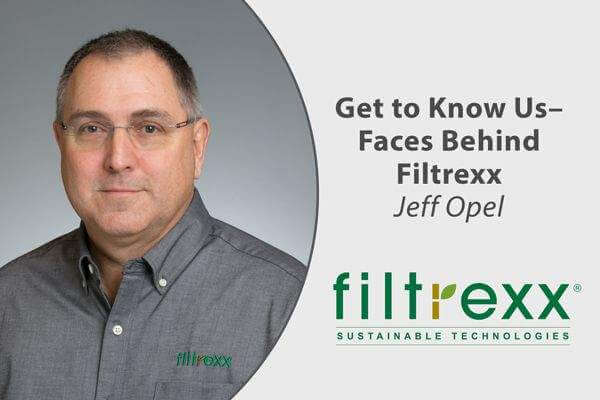 14 Jan 2019, 03:49
Get to know: Jeff Opel, Southeast Sales Manager
What is your role at Filtrexx?

My main responsibility is to support, and train our sales force that serve the Southeast and Central United States. In addition to that role, I focus on the development of our products, supporting the stream restoration and coastal restoration industries.
What do you like most about working for Filtrexx?
Since I found Filtrexx 17 years ago when I was a regulator in Maryland, I was, and still am impressed about the energy, creativity, and support we provide the industry. I firmly believe we are focused on solutions over "just selling a product". That ethic separates us from the rest as we are partners with those who design and install all of our products.
What do you find is the most challenging about working for Filtrexx?
That's simple: Getting the point across that what humans have been doing for the last 30+ years in sediment control has not worked and that products like Filtrexx represent the next 30 years.
What has been one of your most favorite projects?
That's a hard one. This may sound corny, but it's not a project in the pure sense, but working with team members that are new to Filtrexx and selling and watching them grow as a person and a professional. Having been in the environmental business for over 40 years it's important for me to transfer all that I have learned to the next generation of professionals.
What have you learned that you did not know before becoming a Filtrexx employee?
How not to sell a product, but to help guide customers to see the value of Filtrexx.
What are your hobbies outside of Filtrexx?
Fishing, although I'm not catching much. I do spend a fortune on bait with little success. Learning to carve duck decoys, spending time at the beach, and spending time with friends.
Any random facts we should know about you?
At one time, I was one of the largest Shiitake mushroom producers in Maryland.
Jeff Opel has 30 years of experience in the natural resources industry. Many of those years were served as District Manager of several Soil Conservation Districts in Maryland.As District Manager Jeff was responsible for advancing new and innovative sediment and erosion control technology used during the construction process. Jeff also administered the State of Maryland's Living Shoreline program in several Counties in the state and participated in the development of several stream restoration projects. New advanced technologies used included the use of Flocculating agents to increase the efficiency of existing sediment control techniques. Jeff also created designs for multi chamber sediment basins incorporating bio filters to increase trapping efficiency. It was at this position that Jeff became familiar with Filtrexx which was used with great success. Since leaving the government service after 20 years Jeff ran a field office for a civil engineering firm in Delaware, as well as several landscape companies, before coming to Filtrexx. With Filtrexx Jeff has worked in business development for the mid-Atlantic, and in Technical Sales support for the Southeast region. Presently Jeff represents Filtrexx as the Southeast Regional Sales Manager and is actively developing Filtrexx initiatives related to stream restoration and living shorelines.
---