Blog Archives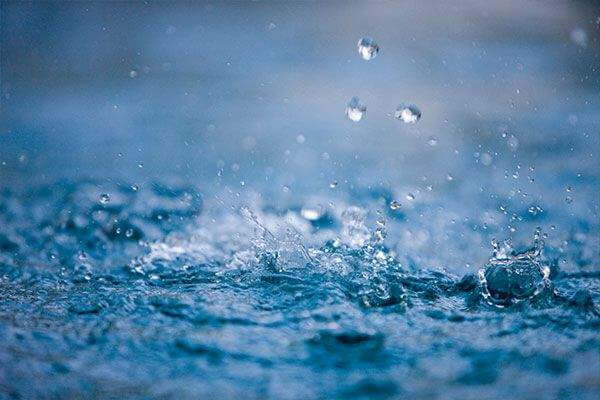 23 Apr 2019, 09:00
As Filtrexx Business and Field Development Manager for the Western Region, I often meet with clients with little familiarity of the problem they are struggling to solve. Such was the case when I met with a southern California grading contractor who had recently been awarded the contract for an 804 acre master development project. As great as that opportunity was, during our conversation he divulged that unfortunately he had under-bid the Erosion and Sediment control portion of the grading project and wanted to know what Filtrexx could do to help him right the ship on his projected costs.
It was apparent we would need to be creative and have a sharp pencil. I immediately suggested we contact the Regional Sales Manager out West, Colin Ewart, to join in the discussion as we evaluated not only initial product costs, but total lifetime costs of SiltSoxx compost filter socks compared to other BMPs such as straw wattles and gravel bags. We would also need to consider the option of on-site blower truck filling of our compost sock mesh in addition to utilizing our 5-inch palletized SiltSoxx for the extensive slope interruption applications. After agreeing together on the course of action we would deploy, Colin engaged Nathan Nevois, Filtrexx Sales Rep in southern California, to work out the numbers and provide the contractor with a price quote and sales support.
Within weeks of this meeting the BMP plan was in place:
60,000 linear ft of 5-inch palletized SiltSoxx
402,000 linear ft of 8-inch Multi-Filament Polypropylene (MFPP) Mesh
96,000 linear ft of 12-inch MFPP Mesh
In addition, we brought in a local blower truck partner to provide pricing on the cost of filling the mesh as well as met with them at a composting facility to help in specifying the correct compost filter media to be used.
By working together with the contractor as a team, Filtrexx responded to the challenge and came up with solutions that not only made financial sense, but equally important, under the heavy rain events of early 2019, met the stringent storm water compliance requirements of California. As a team, we met the challenge by working together and achieved more through the synergy created by our collective efforts, skill sets and responsibilities. We will apply the same team mindset to this multi-stage project that also includes plans for 57 acres of flood control and landscaped slopes, and 203 acres for biological habitat development. There's an unspoken rule in business that the greater the challenge, the greater the need to work closely together to deliver customer-centric solutions. That's the Filtrexx Way!
Dr. Craig Kolodge is the former academic advisor, field plant pathologist and director for the University of California Cooperative Extension (UCCE) and the Agriculture & Natural Resources Research and Extension Center in Santa Clara county. As superintendent of the UC Bay Area Research and Extension Center (BAREC), Dr. Kolodge was instrumental in developing the City of San Jose's green waste utilization program focused on re-purposing recycled organics to deliver ecosystem benefits. Dr. Kolodge currently serves on the Board of Directors for California's Association of Compost Producers (ACP) and is a Certified Professional in Erosion and Sediment Control (CPESC) and a Trainer of Record (ToR) for California's Storm Water Industrial General Permit. He resides in San Diego county where he travels throughout the Western U.S. demonstrating and teaching the practical application of compost- based Sustainable Management Practices (SMP's) for storm water management and land conservation/restoration.

---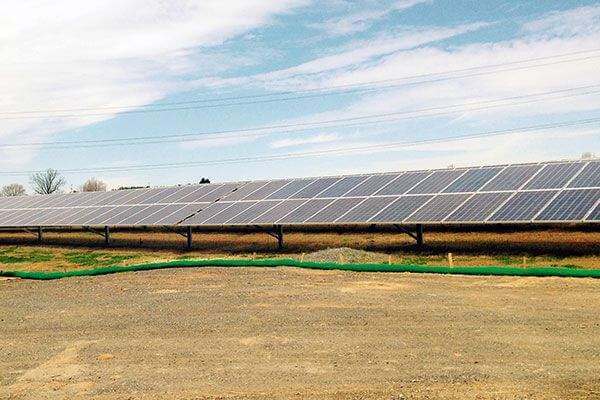 8 Apr 2019, 07:05
While having brunch with some friends last week, I was excited to see that our beverages were served with biodegradable straws. We all raised our drinks to toast the café for being so environmentally responsible. Until… we all realized the drinks themselves had been served in plastic cups! OOPS! It seems that examples like this are all around us.
Whether it's a business, industry, community or consumer, we all tend to latch on to the "hip" thing that all the cool kids are doing. In the solar industry however, we are seeing corporations not only talk the talk, but walk the walk when it comes to sustainability. In addition to leading the way with renewable and sustainable energy solutions, developers of large solar farms are using sustainable products like Filtrexx SiltSoxx during construction. Filtrexx SiltSoxx are made in the United States and contain 100% recycled organic FilterMedia. SiltSoxx are installed on the ground around the perimeter of the project with no ground disturbance or trenching required. Then, during rain events the SiltSoxx filter sediment-laden stormwater run-off and other pollutants before they leave the construction site. This protects rivers, lakes, streams, wetlands and neighboring properties within the watershed. The FilterMedia within the sock is 100% bio-based and sourced both locally and regionally. This creates a huge carbon footprint reduction when compared to using geo-textile fabrics like Silt Fence, to treat sediment and stormwater on a job site.
In fact, using just 200 feet of 8" SiltSoxx on a project is equal to taking 1 car off the road!
Plus, it's much easier to clean up when construction is complete. The SiltSoxx fabric can simply be cut, and the FilterMedia raked into the final grade by hand. Call it a "low-impact" removal – something that is critical when working next to the newly installed and expensive solar panels. Of course, Filtrexx SiltSoxx can be used on more than just solar projects. Soxx have been popping up on natural gas pipelines, powerlines, residential home construction, road projects and other earth disturbing activities around the country. I guess you could say that the cool kids are on to something hip. But something tells me that Soxx are here to stay. Just in case, be sure to ask your design engineers, project owners, general contractors, and site contractors to use SiltSoxx on their next project!
Nick has a Bachelor of Science from The Ohio State University. He has been with Filtrexx for over 13 years and is now managing sales for the Northeast region. He has over 5 years of experience in SWPPP writing/review, stormwater inspections, and BMP installation. In his free time, he enjoys hiking and kayaking with his girlfriend and playing with his Boxer puppy Rudi.

---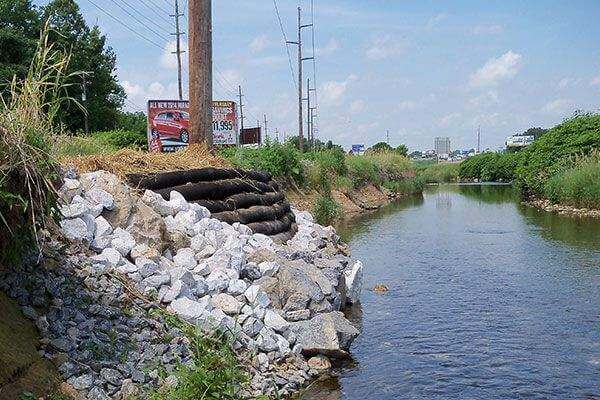 1 Apr 2019, 06:02
Problem: A tributary of Codorus Creek, which flows to the Susquehanna River, runs through York, Pennsylvania. On most days, the tributary is a foot deep. After a rainfall, like most tributaries, the creek swells to five or more feet causing significant erosion to its banks. The banks had become so eroded that the risk was high that power lines would begin falling into the creek. The local power company was faced with the expensive prospect of having to move several power line poles over a one-mile stretch in order to prevent this from happening. The power company came to the decision to try to restore and stabilize the bank before removing and relocating the poles.
Solution: General contractor Stewart and Tate was familiar with the use of Filtrexx products for bank stabilization through a local Filtrexx installer, River Valley Organics. They inquired whether this technology would help prevent the poles from falling into the creek. River Valley Organics President Doug Caldwell recommended Filtrexx GroSoxx. GroSoxx are a vegetated block system that provides immediate stabilization and vegetation establishment for permanent stabilization.
Success: River Valley Organics and the power company worked together to complete the project. Sandbags were used at the base, as required by Pennsylvania Department of Environmental Protection and then armored with rip rap. Then the bank was excavated to toe the GroSoxx into the bank. River Valley Organics blew in 8" GroSoxx seeded with perennial rye. The GroSoxx were reinforced with rip rap on the upstream side and then the system was buffered with a reinforcing layer of rock. The entire project took six hours to install. The GroSoxx are now fully vegetated, saving the power company time and money.
As the Marketing Manager for Filtrexx, Teele works heavily in the digital and social arenas of marketing, running the Filtrexx Twitter, Facebook and LinkedIn pages. She also serves as writer and editor of press releases, project profiles and most recently, the Filtrexx blog. Teele attended the University of Wisconsin-Whitewater where she obtained a Bachelor of Arts in public relations and a Master of Science in corporate communication. Teele has worked in marketing roles for various companies around the Twin Cities before landing at Filtrexx in July, 2017.

---