WHAT ARE LIVING WALLS?
Living walls, also commonly known as green walls, biowalls or vertical gardens, are vertical spaces covered by live vegetation. Although living walls and green walls are terms often used interchangeably, green walls is considered the main term that includes all types of greenery vertical surfaces. There are three major green wall system categories: living walls, retaining living walls and green façades.¹ Filtrexx builds and commercializes living walls and retaining living wall systems.
---
Vertical Living Walls
Living walls — also known as biowalls, ecowalls, modular green walls or vertical gardens — are wall systems composed of panels, modules and other pre-formed structures where specific plants are installed in specially engineered growing media for interior and exterior applications. Filtrexx offers a wide variety of living wall systems such as green living fences (GLF) and VerTexx® Walls.
---
Retaining Living Walls
Retaining living walls are engineered living structures designed to stabilize extreme grade changes while offering a sustainable alternative to conventional block and concrete systems. They provide structural strength and stabilization to reduce potential stormwater runoff and erosion. Filtrexx has an exceptional portfolio of retaining living wall systems such as GreenLoxx® (MSE and Non-MSE), and Trinity® Wire Wall.
---
Green Façades
Green façades are walls covered with climbing plants or cascading groundcover vegetation. Plants can be rooted at the base in the ground or in containers and can be attached to existing walls or be built as freestanding structures. Green façades receive water and nutrients from the ground or roof rather than from within the vertical panel system of a living wall. Thus, the main difference with living wall systems is that green façades do not necesarily have a panel or modular system for irrigation and structural purposes.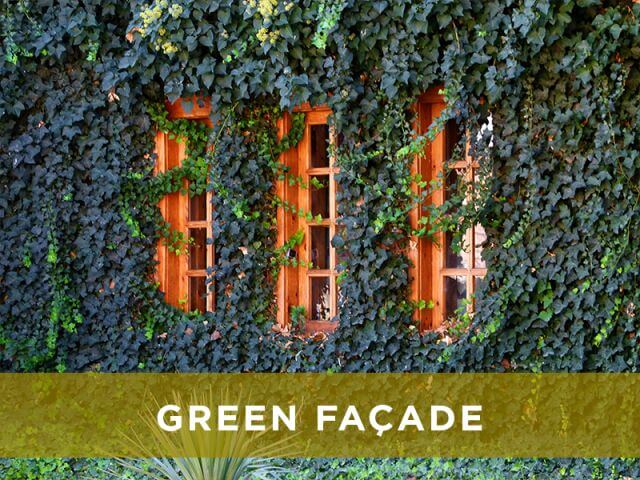 ---