OUR HISTORY
Filtrexx History: living proof of how one clever idea can change entire industries.
---
2001
Rod Tyler, a graduate of The Ohio State University and a Certified Professional Agronomist, invented what is called the compost filter sock. The process at that time involved using a blower truck or an auger to fill a mesh tube with composted media. The product immediately became a superior alternative to silt fence and continues today to replace silt fence in applications requiring reliable, consistent performance in stormwater management and erosion & sediment control applications. Also commonly known as filter sock, filter tube, mulch log, compost sock or log, the Filtrexx® Soxx™ technology was born.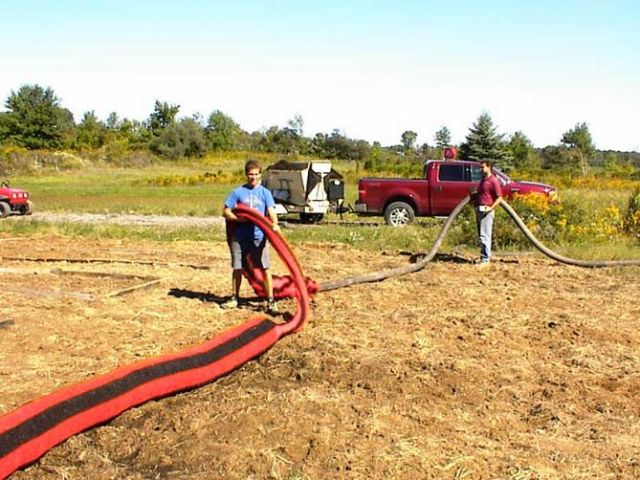 2003-2013
Filtrexx began conducting research to test the performance limits of its products in a number of other stormwater and erosion control applications. Under the brand name SiltSoxx™, Filtrexx started targeting construction runoff and sediment control applications. Other applications quickly emerged to protect inlets, ditches, area drains, stream banks, steep slopes, mechanically stabilized earth (MSE) walls, channels, and even growing applications in agricultural settings. Over the next 10 years, Filtrexx continued to expand its product portfolio and improve manufacturing processes. Filtrexx has pioneered more than 100 applications using mesh, media and technical expertise to achieve desired results. Developing more than 100 types of Filtrexx Mesh and customizing different types of Media, transformed Filtrexx into the leading manufacturer of sustainable technologies for stormwater management, erosion and sediment control applications.
2014
Filtrexx acquired The Living Wall Company™, a successful living wall brand based in St. Louis, Missouri. This new acquisition brought extraordinary synergies and expanded potential applications for existing GroSoxx® and GreenLoxx® product lines, specializing in living walls, retaining living walls, green roofs and bank stabilization systems.
Filtrexx acquired Weaver Express Erosion Control Solutions, a long-standing leader in erosion and sediment control services with presence in Ohio, West Virginia, Pennsylvania and New Jersey. Founded in 2001, Weaver Express became the largest Filtrexx partner in North America and after the acquisition it operated as Filtrexx® Northeast Division and currently operates as Filtrexx® Installation Services.
The impact Filtrexx had on stormwater management, erosion & sediment control, pollutant removal and living walls in a decade, gradually became noticeable across industries. Conwed Plastics, the leading plastic netting manufacturer in the world, and an important player in the erosion control industry, acquired Filtrexx to create synergies in both businesses. Conwed Plastics manufactures netting solutions for Rolled Erosion Control Products (RECPs), including Erosion Control Blankets (ECBs), Turf Reinforcement Mats (TRMs) and Sediment Retention Fiber Rolls (SRFRs). Filtrexx operates as a subsidiary of Conwed Plastics.
2016
Filtrexx celebrates 15 years developing innovative and sustainable technologies for diverse stormwater management, erosion and sediment control, pollutant removal and living walls applications. Our Soxx technology continues to lead the field and we look forward to developing new sustainable solutions for all the industries we serve.
2017
In January 2017, Schweitzer-Mauduit International, Inc. - SWM, acquired Conwed Plastics and its subsidiary Filtrexx International, to join the Advanced Materials and Structures Division (AMS). SWM is a leading global provider of highly engineered solutions and advanced materials for a variety of industries. Historically, SWM primarily served the tobacco industry, which remains a key focus. SWM also manufactures specialty papers for other applications and is executing a strategic transformation to diversify its product portfolio.
SWM's Advanced Materials & Structures segment, which focuses on resin-based rolled goods, includes DelStar Technologies, acquired in 2013, Argotec, acquired in late 2015, and Conwed Plastics acquired in 2017. These acquisitions expanded the Company's product portfolio and end segments served to include filtration, surface protection, medical and diverse industrial segments.
SWM and its subsidiaries conduct business in over 90 countries and employ approximately 3,100 people worldwide, with operations in the United States, United Kingdom, Canada, France, Belgium, Luxembourg, Russia, Brazil, Poland and China, including two joint ventures.
2022
In July 2022, SWM and Neenah completed their merger to become Mativ, a ~$3 billion global leader in specialty materials. Mativ Holdings, Inc. is a global leader in specialty materials headquartered in Alpharetta, Georgia. The Company offers a wide range of critical components and engineered solutions to solve our customers' most complex challenges. With over 7,500 employees worldwide, we manufacture on four continents and generate sales in more than 100 countries. The Company's two operating segments, Advanced Technical Materials and Fiber-Based Solutions, target premium applications across diversified and growing end-markets, from filtration to healthcare to sustainable packaging. Our broad portfolio of technologies combines polymers, fibers, and resins to optimize the performance of our customers' products across multiple stages of the value chain. Our leading positions are a testament to our best-in-class global manufacturing, supply chain, and materials science capabilities. We drive innovation and enhance performance, finding potential in the impossible.
In August 2022, MKB Company, LLC, a pioneer in stormwater innovation, acquired Filtrexx International, from Mativ Holdings, Inc. The acquisition comes as environmental regulations established to protect and preserve the environment and waterways are becoming increasingly more stringent. For years, MKB and Filtrexx have worked separately to create products and services, as well as educate the industry on the most effective and durable stormwater BMPs in the market. The unification of the two organizations will combine both company's product lines to bring the best erosion and stormwater control product offerings to the industry nationwide. Expanded resources, readily available products, extended reach, expanded manufacturing locations, and combined service are just a few benefits MKB and Filtrexx customers can expect with the acquisition. Read more