FILTREXX LIVINGWALLS SPEAKS AT GREY TO GREEN CONFERENCE 2016
Filtrexx® LivingWalls™ division manufactures and commercializes living walls, retaining living walls and green roofs for a wide range of industrial, commercial, and consumer applications. Filtrexx LivingWalls will be attending the Grey to Green Conference 2016 in Toronto, ON, Canada (June 1-4, 2016) and giving a presentation titled "Living Alternatives to Concrete Retaining Walls". This Filtrexx LivingWalls presentation will be given by Mark Woolbright, LivingWalls Division Manager at Filtrexx.
According to Grey to Green 2016 organizers, this years' conference is about sharing the value of green infrastructure (bioswales, green roofs and living walls, urban forests, etc.) as an important tool in the fight to both mitigate against and adapt to climate change. Doubled in size from prior years, Grey to Green Conference 2016 includes a two full-day program with 52 presentations and panel discussions from over 60 industry experts. This conference is the leading forum for designers, policy makers, manufacturers, growers, landscapers, and more to discuss the benefits of the important green infrastructure industry, and how to grow it even further. The interdisciplinary conference will explore the latest science on green infrastructure performance, economic valuation and public policy developments, new technological developments, and best practices in design, installation and maintenance. The conference also includes a trade show, cutting edge training courses, tours of outstanding projects and networking special events.

---
Meet Filtrexx LivingWalls at Grey to Green Conference 2016
LOCATION
Department of Architectural Science - Ryerson University
325 Church Street, Toronto, ON, Canada
(June 1-4, 2016)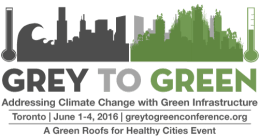 Grey to Green Conference 2016 Website
click here
FILTREXX LIVINGWALLS PRESENTATION
"Living Alternatives to Concrete Retaining Walls"
Thursday, June 2, 2016 from 4:00 p.m. to 5:30 p.m.
Session 8: Reconceptualizing Green Infrastructure for Climate Change
ARC 206 Classroom
Mark Woolbright, Filtrexx LivingWalls Division Manager


---
Grey to Green Conference 2016 - Ryerson University, Toronto, ON, Canada