FILTREXX ATTENDS 2016 MID ATLANTIC IECA 23RD ANNUAL CONFERENCE
Filtrexx® will attend the Mid Atlantic IECA, 23rd Environmental Conference, Workshop & Trade Show in Annapolis, MD (September 20-22, 2016), titled "A Brave New World". This conference will focus on the four IECA Education Tracks of erosion and sediment control, stormwater management, MS4's and surface water restoration and how they relate to Climate Change and Total Maximum Daily Loads (TMDL's).
Filtrexx® Soxx™ technology offers sustainable solutions in stormwater management, sediment & erosion control, and pollutant removal applications. Connect with our team in Annapolis to discover the benefits of Filtrexx compost soxx.


---
Meet Filtrexx at the Mid Atlantic IECA Conference
LOCATION
Double Tree by Hilton
210 Holiday Court
Annapolis, Maryland 21401
DATE
September 20-22, 2016

AGENDA
Mid Atlantic IECA Website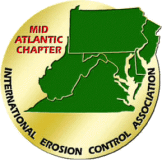 FILTREXX SUSTAINABLE SOLUTIONS
DOUBLE TREE BY HILTON
---