FILTREXX CONCRETE WASHOUT
Our Soxx™ technology offers filtration capabilities for a wide range of applications.

Filtrexx® SiltSoxx™ is an exceptional three-dimensional tubular sediment control and stormwater filtration device designed for solids separation, contaminated effluents, and point sources of contaminated water. Concrete washouts are implemented on construction projects where slurries — usually a mixture of cement and water — containing Portland cement concrete (PCC) or asphalt concrete (AC) are generated from coring, grinding, saw cutting and grooving. These slurries can also be generated by concrete trucks and other concrete-coated equipment when they are cleaned and washed on-site. Concrete waste management is a vital aspect of any construction project and Filtrexx offers Best Management Practices (BMPs) to handle concrete washout operations.
---
CONCRETE WASHOUT ADVANTAGES
Better trapping of sediment and soluble pollutants
Easy removal of accumulated solids
No trenching required
Greater surface area contact
Customize to remove targeted pollutants
Easily increase design height by stacking
Custom size and shape
APPLICATIONS
Concrete truck wash station
For stream pump-arounds
Emergency overflow
Dredging slurry filtration
Manure lagoon slurry filtration
---
We provide FREE access to our Filtrexx Design Manual. Our database includes product specifications, installation guidelines and recommendations, as well as CADs for over 25 applications. Engineers, designers and installers rely on our Filtrexx Design Manual to evaluate our products and find best suitable solutions. Sign up or log in for free.
WEBINARS AND SEMINARS
View our calendar of webinars and seminars and sign up to learn more about Filtrexx Sustainable Technologies.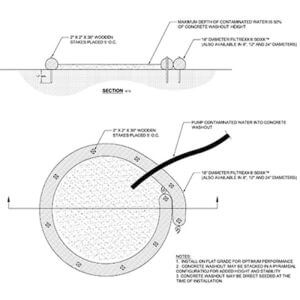 ---
FILTREXX CONCRETE WASHOUT GALLERY
---