FILTREXX INLET PROTECTION
Filter stormwater runoff and protect drain inlets with our SiltSoxx™ portfolio.

Filtrexx® Soxx™ technology is an ideal solution to filter runoff water around a storm drain drop or curb inlet. Our products help prevent sediment, debris and other particles from entering any storm drainage system. Water temporarily ponds behind the inlet protection— SiltSoxx — which allows deposition of suspended solids. Sediment and soluble pollutants — e.g. phosphorus and petroleum hydrocarbons — are filtered from runoff water as it passes through the organic structure. If pollutant removal is a requirement, our EnviroSoxx® portfolio has a variety of additives that can be incorporated to the Soxx design to guarantee desired performance. Preventing scour and silt concentration in inlets, storm drainage systems and receiving channels is our expertise.
---
INLET PROTECTION ADVANTAGES
Emergency overflow prevents flooding
Easy to maintain, replace, and repair
No need to remove storm grate to install
Reduced ecological footprint: recycled, biobased, locally manufactured, indigenous materials
Flocculants available
Available on pallets
Heavy duty Soxx™ available for high traffic areas
APPLICATIONS
Around drain inlets
In front of curb inlets
As curb sediment containment system
Around storm drainage systems
Receiving channels

---
We provide FREE access to our Filtrexx Design Manual. Our database includes product specifications, installation guidelines and recommendations, as well as CADs for over 25 applications. Engineers, designers and installers rely on our Filtrexx Design Manual to evaluate our products and find best suitable solutions. Sign up or log in for free.
WEBINARS AND SEMINARS
View our calendar of webinars and seminars and sign up to learn more about Filtrexx Sustainable Technologies.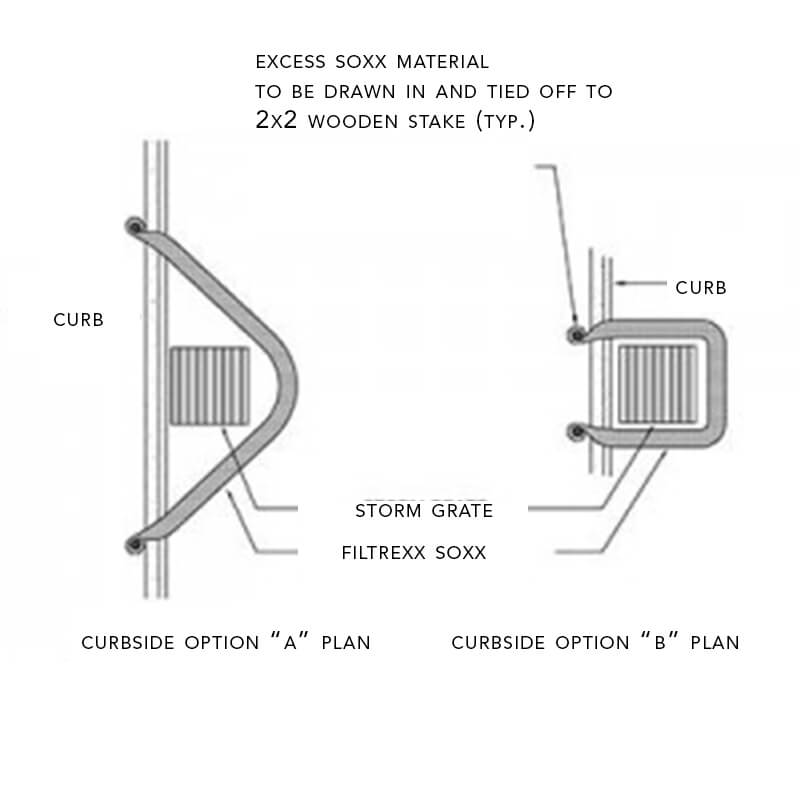 ---
FILTREXX INLET PROTECTION GALLERY