FILTREXX BANK STABILIZATION
Our bank stabilization systems provide reliable and sustainable solutions for your project.

Filtrexx® Bank Stabilization is a vegetated soft block™ system designed to stabilize banks and prevent erosion of riparian areas, waterways, and shoreline banks. The Bank Stabilization system uses heavy duty tubular mesh netting and/or geogrid to provide structural protection, control erosion, and establish and reinforce vegetation all in one simple system.
Bank Stabilization has been specifically developed to withstand high flow velocities and shear stresses that conventional products cannot withstand. This patented system allows vegetation to grow from the inside out to create a natural anchor between the bank and the stabilization system. Our drip tape irrigation system (optional) ensures rapid establishment and sustainability of seed and live stake plantings.
---
ADVANTAGES
No major excavation or land disturbance
Easily customized to fit most types of watersheds/drainage areas
Add targeted pollutant removal
Reduced ecological footprint: recycled, biobased, locally manufactured, indigenous materials, carbon neutral
APPLICATIONS
Creek, stream, and riparian bank stabilization
Pond and lake shoreline stabilization
Sediment and stormwater retention/detention pond bank slope stabilization
Riparian, stream bank, tidal creek, and salt marsh restoration
Habitat/ecological restoration and aesthetic revitalization
---
We provide FREE access to our Filtrexx Design Manual. Our database includes product specifications, installation guidelines and recommendations, as well as CADs for over 25 applications. Engineers, designers and installers rely on our Filtrexx Design Manual to evaluate our products and find best suitable solutions. Sign up or log in for free.
WEBINARS AND SEMINARS
View our calendar of webinars and seminars and sign up to learn more about Filtrexx Sustainable Technologies.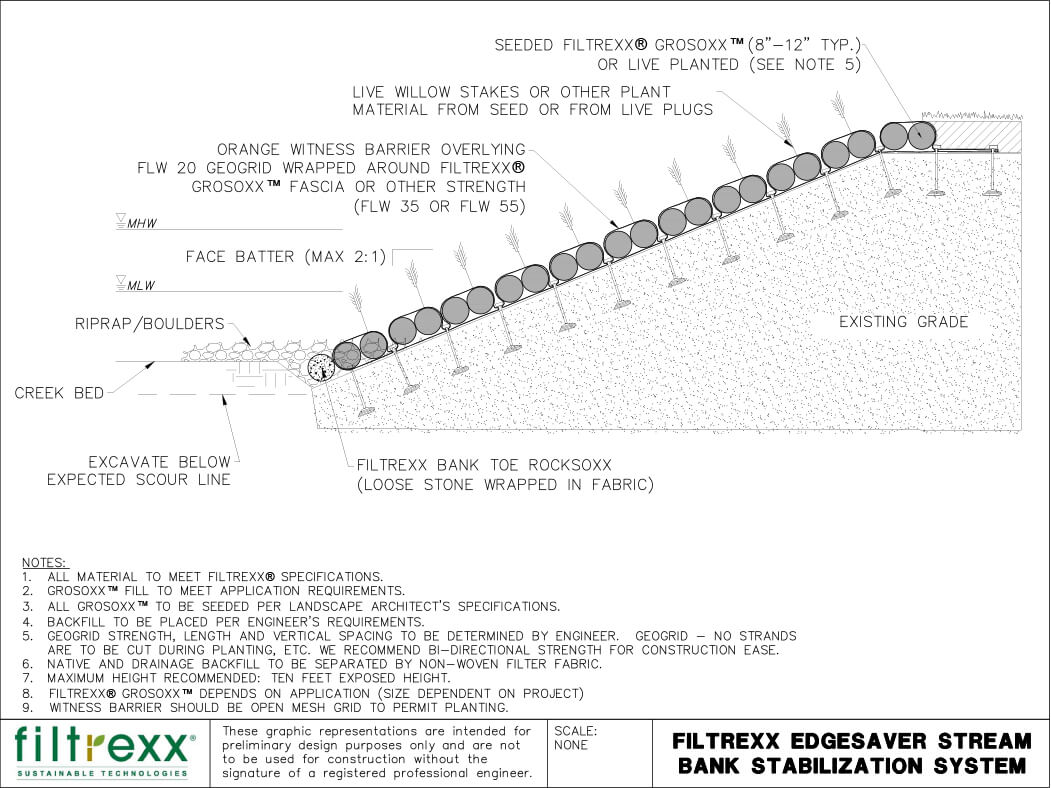 ---
FILTREXX BANK STABILIZATION GALLERY
---
FILTREXX BANK STABILIZATION VIDEOS
ROADSIDE BANK STABILIZATION

FILTREXX LOW IMPACT DEVELOPMENT & DESIGN
---