FILTREXX COMPOST EROSION CONTROL BLANKETS
Our soil stabilization solutions help you Mimic Nature®.


The Filtrexx® Compost Erosion Control Blanket™ (CECB™) is a 2″ compost GrowingMedia™ used for temporary and permanent slope stabilization, erosion control, and vegetation establishment. It is typically applied to slopes with pneumatic blower trucks. Compost erosion control blankets act similarly to mulch products but provide organic nutrients that promote vegetation growth, even in areas where germination, moisture management and irrigation could be challenging.
In many stormwater management projects, a compost erosion control blanket could also be used as a Compost Storm Water Blanket™ (CSWB™) to reduce run-off in critical areas. Compost erosion control blankets can also be applied with a netting erosion control blanket if additional strength is required to make the soil surface texture rougher. Our stabilization and erosion control professionals can recommend the most suitable solution for your project and combine our extensive Filtrexx portfolio to create truly exceptional stabilization systems.
---
ADVANTAGES
2" depth provides intimate contact–allows nearly 100% ground contact, eliminating puckering of other blankets, reduces sediment loss
Seed mixed throughout blanket profile
Reduces runoff by increasing infiltration
Provides excellent growing media for vegetation
Addition of organic matter improves slope ability to re-vegetate and establish a permanent erosion system
For added strength add Filtrexx® LockDown™ Netting
APPLICATIONS
Use after final grading for temporary or permanent seeding
Use on slopes up to 2:1 without additional practices
---
We provide FREE access to our Filtrexx Design Manual. Our database includes product specifications, installation guidelines and recommendations, as well as CADs for over 25 applications. Engineers, designers and installers rely on our Filtrexx Design Manual to evaluate our products and find best suitable solutions. Sign up or log in for free.
WEBINARS AND SEMINARS
View our calendar of webinars and seminars and sign up to learn more about Filtrexx Sustainable Technologies.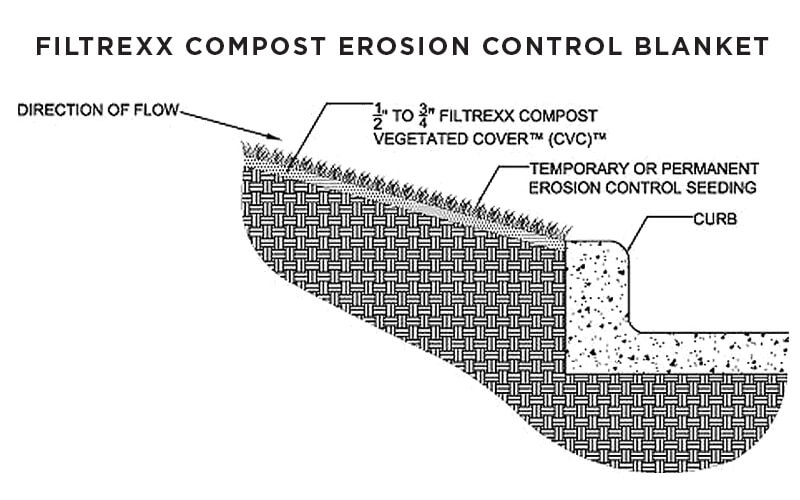 ---
FILTREXX COMPOST EROSION CONTROL BLANKETS GALLERY
---