FILTREXX COMPOST VEGETATED FILTER STRIPS
Reduce sediment and pollutant loading of surface sheet flow post construction.


Filtrexx® Vegetated Filter Strip is a temporary or permanent filtration practice used to reduce site sediment and soluble pollutants, such as nutrients, heavy metals, bacteria, and petroleum hydrocarbons, from leaving a site and entering conveyance systems or receiving waters. Permanent vegetation is designed to increase storm water infiltration and pollutant filtration. Filtrexx Vegetated Filter Strips have a specified width and utilize a 1 to 2 inch (25-50mm) layer (135 to 270 cubic yards/acre) of Filtrexx® GrowingMedia™ blended with a specified seed mix. The GrowingMedia is applied with a pneumatic blower or similar equipment. We have an extensive portfolio of sustainable solutions for each application, contact our team to collaborate on your next project development.
---
ADVANTAGES
Able to remove pollutants and infiltrate stormwater
Easily applied to establish vegetation in challenging areas
Permanent or temporary
Slow runoff velocity and reduce erosion
Provide organic nutrients to the soil
APPLICATIONS
Streambanks and shorelines
Wetland buffer
Along roadways & parking lots
Around channels, ditches, and swales
As a pretreatment for channels
Highway, street, and parking lot runoff
---
We provide FREE access to our Filtrexx Design Manual. Our database includes product specifications, installation guidelines and recommendations, as well as CADs for over 25 applications. Engineers, designers and installers rely on our Filtrexx Design Manual to evaluate our products and find best suitable solutions. Sign up or log in for free.
WEBINARS AND SEMINARS
View our calendar of webinars and seminars and sign up to learn more about Filtrexx Sustainable Technologies.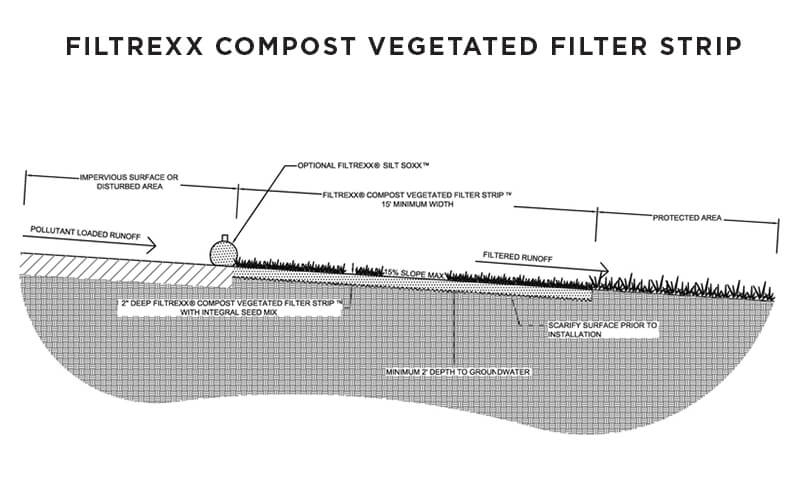 ---
FILTREXX COMPOST VEGETATED FILTER STRIPS GALLERY