FILTREXX BLOWER TRUCK MESH FOR COMPOST FILTER SOCK / SILT SOCK

The mesh you choose matters - choose Filtrexx Blower Truck Mesh.
Filtrexx Blower Truck Mesh is the original compost sock mesh for field installation with blower trucks or track machines for sediment control applications. Reliable and durable, four unique mesh types ensure the right fit for your job. Save time and money with easy to use rucked material.
Easily installed for a variety of construction applications, silt sock reduces the labor cost required for installation and maintenance, while delivering optimal performance.
Filtrexx Mesh is Made in the USA and in compliance with most state and federal agencies including USEPA, AASHTO, USDA NRCS and US ACE.
Filtrexx Mesh is available in a variety of materials to meet your sediment control project needs. Download the Blower Truck Mesh flyer for more information or the comprehensive Filtrexx Product Catalog to see all product configurations. Filtrexx Mesh is available through distributors nationwide - contact us to find a distributor or inquire about joining our distribution network.
Looking for pre-filled compost filter sock? See our line of pre-filled Filtrexx SiltSoxx pallets here.
---
FILTREXX BLOWER TRUCK MESH TYPES
---
FILTREXX BLOWER TRUCK MESH PRODUCT CHART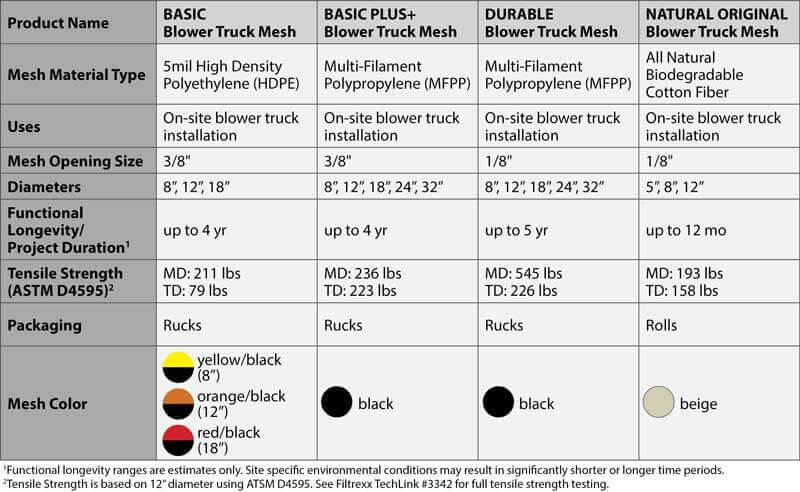 ---
---
FILTREXX SEDIMENT CONTROL APPLICATIONS
---
---
REFERENCES
Sediment Removal Efficiency (removal efficiency performance may vary under conditions different from those tested and reported here)
Installation Time Comparison: Performed by Clearwater Colorado (2015) [Video] click here
Maintenance Comparison: EPA Erosion Control Alternatives Cost Calculator (2006). [PDF] click here [XLS] click here
Total Project Costs Comparison: EPA Erosion Control Alternatives Cost Calculator (2006). [PDF] click here [XLS] click here

---