GREENLOXX
Non-MSE and MSE Living Walls
GreenLoxx® can be used in Mechanically Stabilized Earth (MSE) or non-Mechanically Stabilized Earth (Non-MSE) living walls. GreenLoxx living walls are an excellent alternative to retaining walls built with conventional block or concrete systems as they offer reinforcement capabilities in addition to sustainable and aesthetic features. Greenloxx living walls are reinforced with geotextile support to form a retaining living wall that "locks". The locking system is created by the integration of Filtrexx geogrids (FLW) and a fascia made from GroSoxx® filled with GrowingMedia™. With the use of GroSoxx, the GreenLoxx living wall system provides superior soil retention and erosion protection to the desired area and an optimal environment for vegetation establishment.
GroSoxx consists of Filtrexx® Soxx™ mesh, filled with composted Filtrexx GrowingMedia. GroSoxx are stacked on top of one another in a recessed fashion on steep slopes to near vertical situations. Filtrexx FLW geogrid is seamlessly incorporated into the system giving it added structural support and integrity to meet specific environmental and site requirements. The addition of vegetation growing through the facing with healthy roots penetrating the entire structure adds environmental service, natural aesthetics and structure.
Filtrexx has created a full line of vegetated retaining walls that utilize our proprietary GrowingMedia to provide a fertile growing medium that encourages vegetation establishment and successfully assists in anchoring roots of the vegetation to the wall, geogrids and the site substrate. Contact Filtrexx LivingWalls and let us collaborate on your next living wall project development.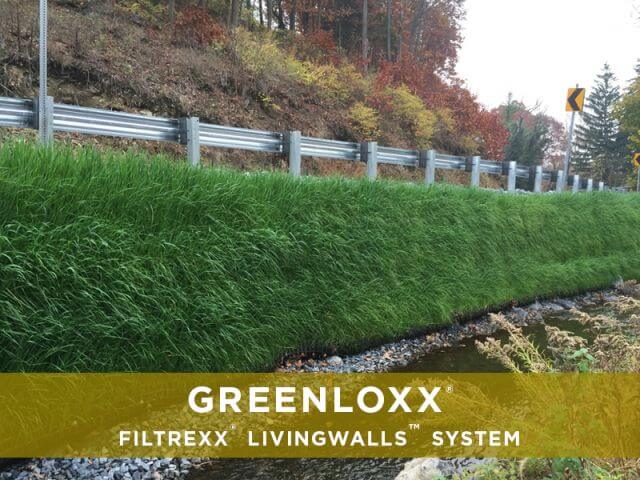 ---
GREENLOXX NON-MSE LIVING WALL
ADVANTAGES
Lightweight components
Minimal footings required
No leveling pad required
Easily reinforced with geogrid
Improved drainage, resulting in reduction of hydrostatic pressure
Customizable vegetation with plants, plugs, live stakes or seed
FEATURES
Steep Slope Stabilization
Streambank/Pond Bank Stabilization
Slip Repairs
Culvert Headwalls
Bridge Abutments
Dikes/Berm
Flood Protection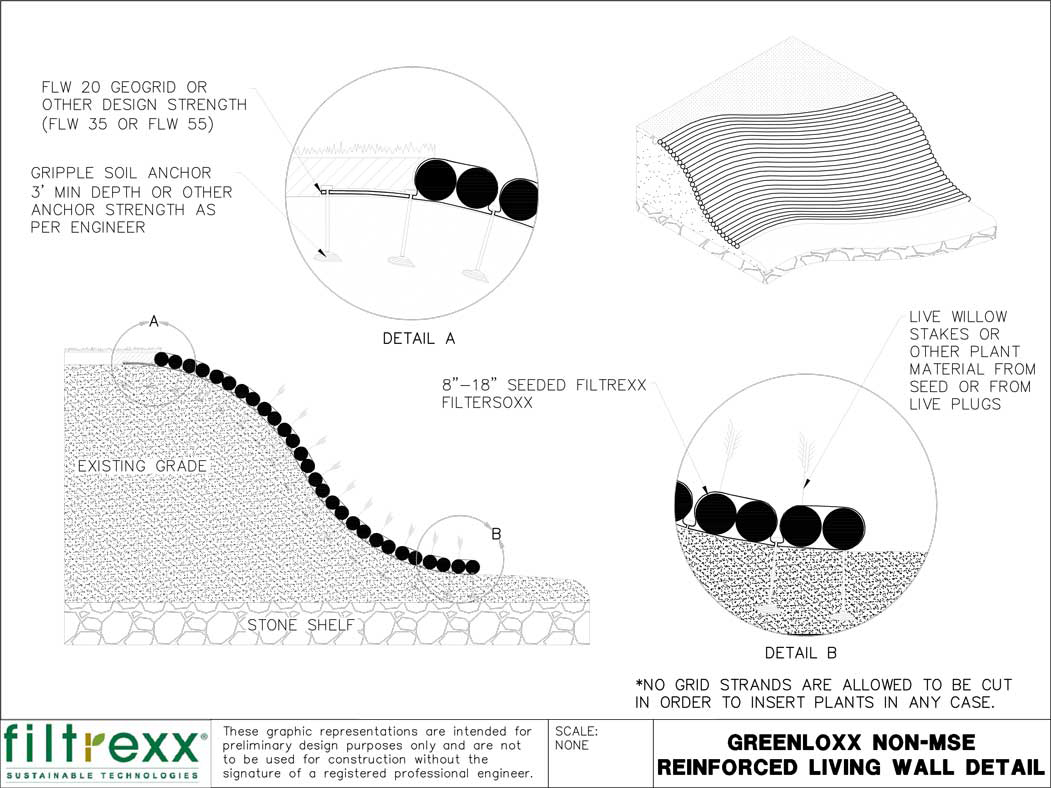 ---
GREENLOXX MSE LIVING WALL
ADVANTAGES
Withstands high flow velocities
Sheer stress up to 4x greater than rock & rip rap
Use seed, sprig, plug, or live stake plantings
Uses geogrid for added stability
Use on severe slopes up to 1:1
Ideal for sensitive riparian areas
FEATURES
Steep embankments
Roadside slopes
Road underpasses (culverts)
Storm water outfalls
Streambanks
Shoreline slopes
Residential retaining walls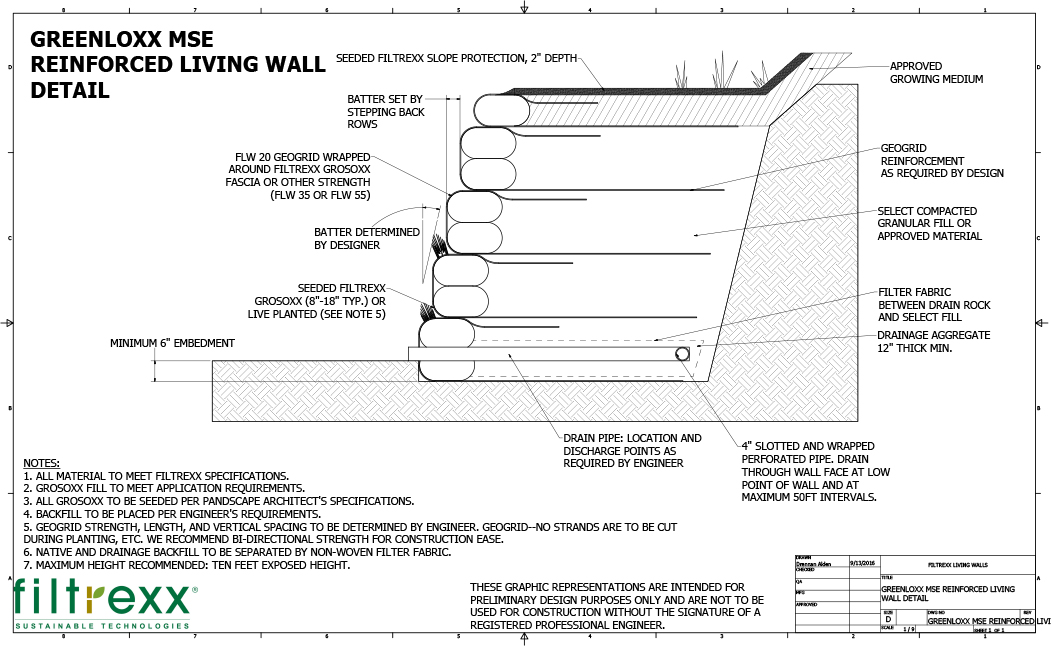 ---
WEBINARS AND SEMINARS
View our calendar of webinars and seminars and sign up to learn more about Filtrexx® Sustainable Technologies.
We provide FREE access to our Filtrexx Design Manual. Our database includes product specifications, installation guidelines and recommendations, as well as CADs for over 25 applications. Engineers, designers and installers rely on our Filtrexx Design Manual to evaluate our products and find best suitable solutions. Sign up or log in for free.
---
GREENLOXX LIVING WALLS GALLERY
---
GREENLOXX LIVING WALLS VIDEOS
GREENLOXX & TRINITY SYSTEMS - PROJECT PROFILE
---
FREE WEBINAR - SUSTAINABLE SOLUTIONS FOR BANK & SLOPE RESTORATION