FILTREXX PRODUCT LITERATURE
Download Filtrexx literature, brochures, flyers, and catalogs to learn more about our products and solutions.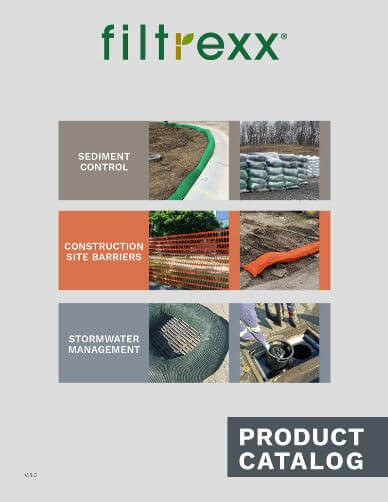 Filtrexx® provides diverse solutions depending on the project and expected product performance. View and download our entire set of brochures and catalogs that provide an overview of our entire portfolio. We offer sustainable technologies for stormwater management, sediment and erosion control, pollutant removal and living walls applications.
Looking for design specifications? Click here for complete Engineer Design Specifications, CADs, and SWPPP Cut Sheets.
---
PRODUCT LITERATURE DOWNLOADS
ABOUT/ALL PRODUCTS
Filtrexx Green in Every Way™ [PDF] click here
Filtrexx Overview Flyer [PDF] click here
Filtrexx Product Catalog [PDF] click here
SEDIMENT CONTROL
Files for Engineers:
Filtrexx SiltSoxx Compost Filter Sock, Overview Flyer [PDF] click here
Filtrexx Blower Truck Mesh, Overview Flyer [PDF] click here
Files for Contractors & Distributors:
SiltSoxx Total Cost of Ownership Infographic [PDF] click here
SiltSoxx Compost Filter Sock, Overview Flyer [PDF] click here
Filtrexx Blower Truck Mesh, Overview Flyer [PDF] click here
Powered by Filtrexx (Mesh) Flyer [PDF] click here
Product Submittal Form (SiltSoxx, pre-filled on pallets) [PDF] click here
Choose "download" to download the fillable PDF form
Product Submittal Form (Mesh, unfilled) [PDF] click here
Choose "download" to download the fillable PDF form
SiltSoxx Installation Spec, Perimeter Control [PDF] click here
SiltSoxx Installation Spec, Inlet Protection [PDF] click here
SiltSoxx Installation Spec, Check Dams/Ditch Checks [PDF] click here
SiltSoxx Installation Spec, Slope Interruption [PDF] click here
Traffic Marker, Overview Flyer [PDF] click here
STORMWATER MANAGEMENT
Files for Engineers:
EnviroSoxx Pollutant Filter, Overview Flyer [PDF] click here
StormExx Catch Basin Filter, Overview Flyer [PDF] click here
Files for Contractors & Distributors:
EnviroSoxx Pollutant Filter, Overview Flyer [PDF] click here
DrainChexx Inlet Filter Mat, Overview Flyer [PDF] click here
WALLS & SLOPES
Files for Engineers:
GreenLoxx Systems, Overview Flyer [PDF] click here
---